Yellowstone Sep 2002: Home | Mammoth | Mt Washburn | South Rim | More | Links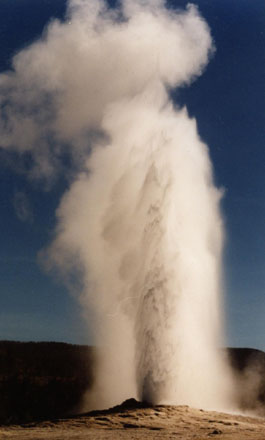 I visited Yellowstone National Park for 5 days in late September 2002. The park is located in Wyoming, just north of Grand Teton National Park (which is well worth visiting on any Yellowstone visit).
The entire trip started with a slight into Rapid City, South Dakota. Then I drove to Yellowstone, next I visited Grand Teton and then drove back across Wyoming to Devils Tower National Monument, through the Black Hills to the Badlands before returning to Rapid City.
See photos from my hikes on the Elephant Back, South Rim (including Uncle Tom's) and Mount Washburn trails. Short walks such as Mammoth Hot Springs and turnout overlooks and more in Yellowstone.
For lodging, I would suggest trying to reserve 2 days in Mammoth and 3 days near Old Faithful or Lake Yellowstone, if cost is a factor (otherwise perhpas 3 days at Old Faithful and 2 days at Yellowstone Lake). All the lodges are great but Mammoth is cheaper. There are also a great deal of rooms in West Yellowstone.
For more details on lodging and for Grand Teton and yellowstone see the Wyoming Handbook and Frommer's Yellowstone and Grand Teton National Parks