Grand Teton Oct 2002: Home | Hermitage Point Trail | Inspiration Point Trail | More | Links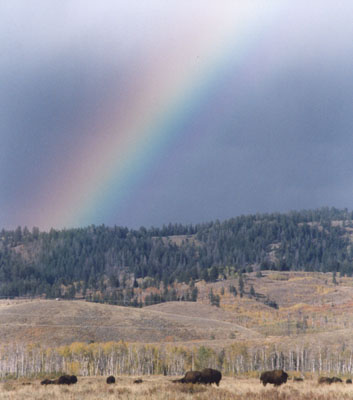 I visited Grand Teton National Park for 4 days in late September and early October 2002. The park is located just south of Yellowstone National Park and provides an excellent addition to a Yellowstone visit.
I drove through Grand Teton on my way from Yellowstone to Jackson Hole, Wyoming on my first day. Then I spent several days hiking and enjoying Grand Teton. The first day provided some excellent hiking weather in the morning followed by a stormy afternoon. The next day I hiked around. Then it snowed all day with almost no visibility so I spent the day in my room and in the Signal Mountain Lodge. The next day, I headed out to the Black Hills.
See photos from my hikes on the
Inspiration Point Trail
(and continuing along Cascade Canyon Trail),
Hermitage Point Trail
and the
wonderful scenery
Grand Teton offers.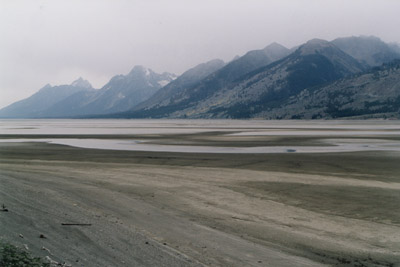 On the left, see the Grand Teton Mountain Range from one of the first overviews as you enter the park from the north. Foreground is large dry riverbed. It is a spectacular site. Many of the park facilities were closed for the season, when I arrived (27 September), and almost all were by the time I left (1 October).
On my second evening in the park I took a Park Ranger lead guide looking for wildlife at dusk (where I took the top photo). I recommend that guided tour and, as always, the other ranger led activities.
As day hiking guides I used, and recommend, Best Easy Day Hikes Grand Teton and Day Hiking Grand Teton National Park. I stayed and ate in Signal Mountain Lodge and recommend it for both. The rooms are not spectacular themselves but the views from some are very nice and it is in the center of the park. The other lodges are very expensive. You can also stay in Jackson, Wyoming (which I did for two nights) but it is a bit out of the way.
For more details on lodging and for Grand Teton and yellowstone see the
Wyoming Handbook
and
Frommer's Yellowstone and Grand Teton National Parks