Grand Teton Oct 2002: Home | Hermitage Point Trail | Inspiration Point Trail | More | Links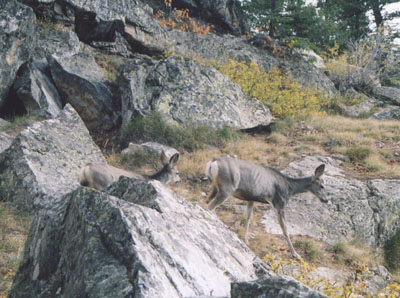 Inspiration Point Trail and continuing along Cascade Canyon Trail, Grand Teton National Park, 28 September 2002 by John Hunter.
As day hiking guides I used, and recommend, Day Hiking Grand Teton National Park (hikes 5 and 13) and Best Easy Day Hikes Grand Teton (hike 17).
I began the hike by taking the boat from Jenny Lake ranger station to the base of the trail at 9 AM. Early on I saw a mother deer, with two children, that spotted me and then walked toward me and across the trail (this photo was taken without a telephoto lens). As I headed out the trail was very sparsely populated but as I headed back the trail was very crowded all the way from Inspiration Point to the trailhead. I would try a different canyon trail, in the busy season for the park.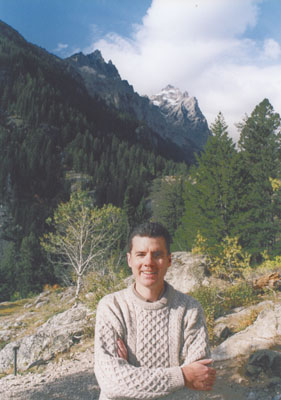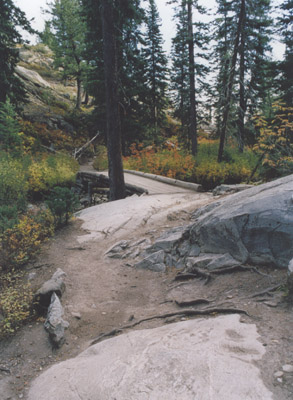 The trail climbs up from the lake though a woods (see photo on right). After a short while you start getting an overview of the lake which is spectacular from Inspiration point. As you continue into Cascade Canyon you have spectacular views. The walk remain fairly flat while you walk in the valley (see photo on left).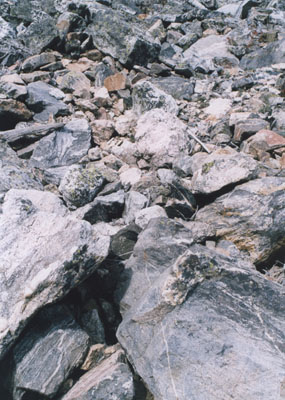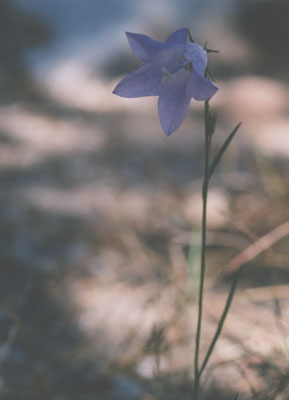 The valley has a stream, (visible at times along the trail). There are also frequent fields of broken rocks. Many different types of rocks, representing millions of years of geologic history are piled together. The rocks along this trail look as they have just broken off recently - all sharp edges.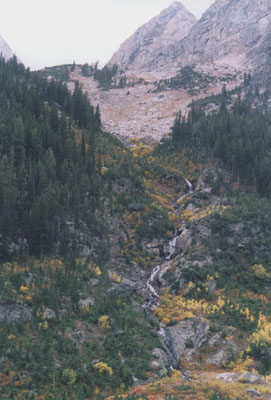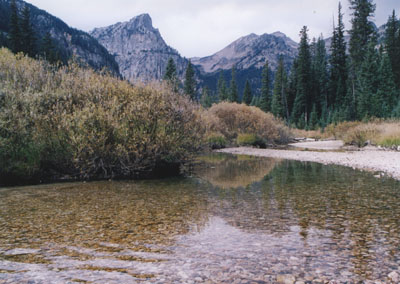 The rocks along the Hermitage Point trail (an excellent day hike) are all smooth - weathered over millions of years. Obviously Grand Teton National Park has many incredible views. It also offers many day hike, as well as longer, options. I turned around before reaching the fork in the trail as it looked as though the weather was starting turn. I reached the boat dock about 1 PM and caught the boat back across Jenny Lake as it started to rain. Additional photos from the Cascade Canyon Trail are shown below.