Yellowstone Sep 2002: Home | Mammoth | Mt Washburn | South Rim | More | Links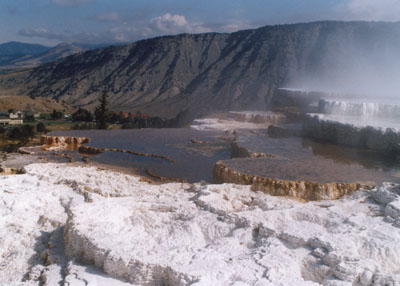 During 4 of my 5 nights at Yellowstone, I stayed at the park lodge at Mammoth Hot Springs. It is located at the northern entrance to the park: I enjoyed staying there. My room, with a shared bath, was only $70 a night (see photo from my room window below). In the photo to the left you can see the hotel in the distant background.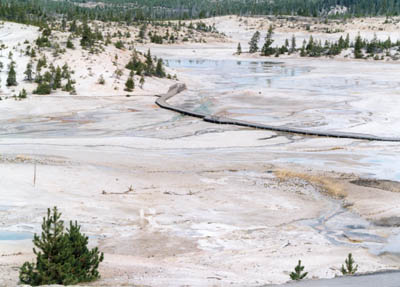 The Mammoth Hot Springs walk is about a mile of boardwalk paths with stairways in several places. The boardwalks are primarily to pretect visitors: the surface is brittle and could colapse with a mistep by a visitor. The view to the right is an overview of one boardwalk path. The top photo also shows anther view on the path. Each evening I attended a presentation in the lodge on various aspects on the history of the park; they were enjoyable and added to the experience.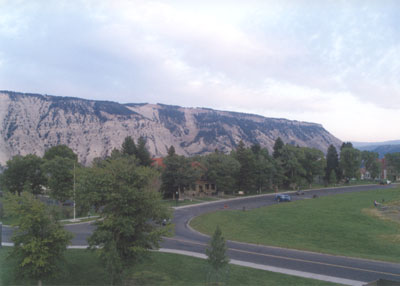 The photo to the left shows the view from my hotel room. The field was often crowded with Elk during the evening and nighttime hours. Three of the four nights I stayed there the Elk's trumpeted all evening and at least until I fell asleep. The food at the lodge was not up to that I have experienced at most National Park Lodges.