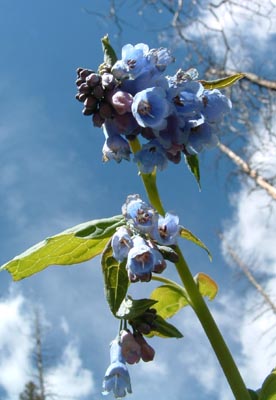 The Calapyso Cascade trail starting from the Allens Park trailhead is great. I got the idea for starting at the Allenspark trailhead from Best Easy Day Hikes - a great hiking guide to the park. The trail was nearly empty until merging with the more popular trail at the falls. This was my favorite trail in the park - the Bear Lake trails were quite enjoyable also.
The trail starts out in pine forest for a bit over a mile. Then the trail begins to offer great view of the vistas available in Rocky Mountain National Park. Many flowers were blooming along the trail as I hiked in late June, 2003.
The vistas seen while hiking along this trail were amazing, hopefully some of these photos give a sense of what the hike offers. My lunch sitting along the trail and looking out over the view was a great treat.
Eventually you merge with another trail at the falls. I only went a few hundred feet past the falls and recommended going at least that far as several nice views are waiting for you.