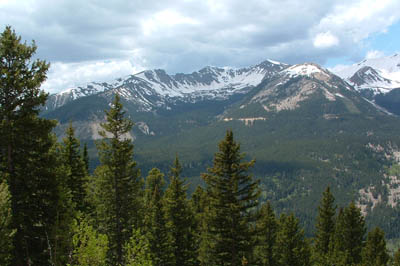 I visited Rocky Mountain National Park for 4 days in June 2003. The park is located in Colorado, near Denver.
I also spent a day hiking the Mesa Trail in the Bolder foothills, the Front Range. At the peak of the hike (over a 3,000 foot climb) you get a spectacular view of the Rockeies. In the opposite direction you can Denver and beyond.
See photos from my hikes on the Cascade Falls, Bear Lake and Calypso Cascades. Also see views from scenic overlooks and from trails along Trail Ridge Road and vistas in Rocky Mountain National Park and nearby.
I stayed in Grand Lake Lodge, on the western side of the park and then with friends on the eastern side. The vast majority of the lodging for visiting the park is in Estes Park, on the eastern edge of the park.
For more details see the Best Easy Day Hikes Rocky Mountain National Park, Rocky Mountain National Park Dayhiker's Guide and Frommer's Rocky Mountain National Park (Frommer's includes lodging information)