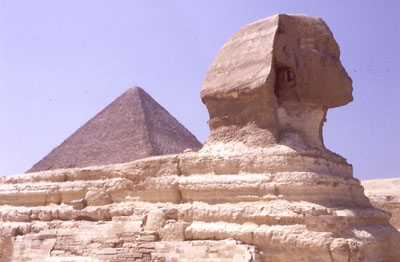 The Pyramids at Giza are the only remaining wonder of the ancient world. They are one of the most recognizable sites in the world and yet seeing them in person is still amazing. The size of all three pyramids are amazing. They sit with a backdrop of the desert extending as far as the eye can see as they have for millenia. And yet only a few hundred feet in the other direction modern life roars by.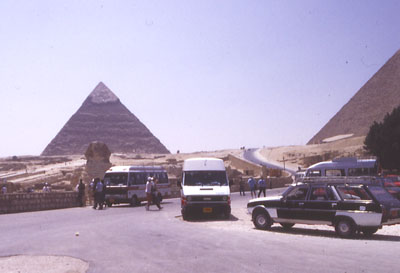 Giza, now a suburb of Cairo, lies a few miles from the Nile. One night, we splurged and stayed at the Castle built for Queen Josephine (Napoleon's wife) which is now a hotel. The hotel offers amazing views (see picture at right) a pool (also with views of the pyramids) which is an amazing way to cool down after a long day of site seeing and, when we visited, an excellent indian restaurant.
The three pyramids were built as tombs for 4th Dynasty pharaohs: khufu (Cheops in Greek), Khafre (Chephren) and Menkaure (Mycerinus). You can no longer climb on, or inside, of these pyramids but there are some pyramids that do allow you to walk inside.