Costa Rica Travels: Home | Animals | Forest | River | Plane | Links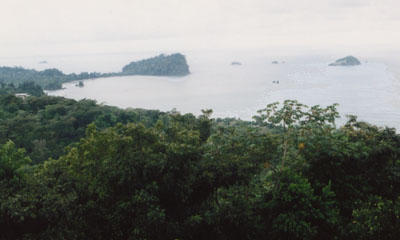 I visited Costa Rica for 2 weeks in December. I started in San Jose for a night, then headed out to the arial tram. Using ski-lift equipment you are taken on a tour of the rain forest canopy; it was an amazing experience.
We next stayed near Manuel Antonio National Park for several days and enjoyed laying around the beach. Top photo at left is from our hotel window. The lower photo is a taken from the beach of another hotel.
Volcan Arenal is an active volcano with a wonderful spa at the base. Sitting in the pool, in water heating by the volcano, at night, while watching lava flows at the top of the volcano was spectacular.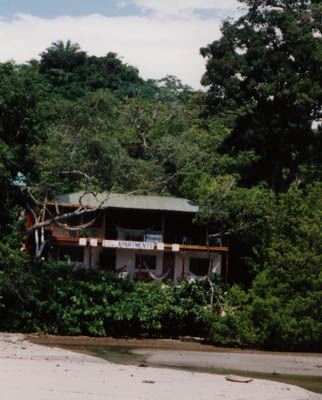 The Mountverde Cloud Forest offered more wondrous nature hikes. We stayed at the El Sapo Dorado (the Goldern Toad) which I recommend. The food was wonderful. While staying there my brother and I played some basketball (below) in a nearby town.