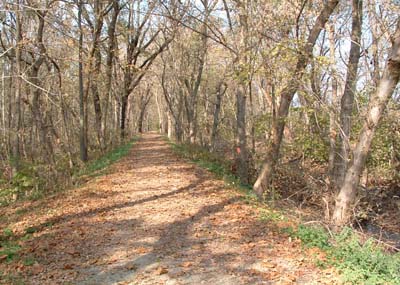 I walked the Chesapeake and Ohio National Park towpath on a pleasant Saturday in October 2003. The path was very lightly traveled. The entire hike was very similar to the photo on the left, making it a favorite of bikers (I saw more bikers than hikers).
I found the hike from 60 Hikes within 60 miles of Washington DC (hike number 8), which is a great book. I had difficulty finding the turnoff for Mouth of Monocacy Road (the road was not labeled when I went). See the last photo for a photo of the intersection (Route 28 is on the right and I am on Mouth of Monocacy road when taking the picture).
The Aqueduct was being restored when I visited as you can see from the photo. The Aqueduct carried a waterway over the river (like a highway going over another road) for bardge traffic traveling the C&O canal, when it was active. For my hike, I went north (from the parking lot that takes you over the aqueduct). To the left was the Potomac River and to the right the remnants of the canal. The canal depression gathered water at various points and is being reclaimed as woodland.
See more Washington DC photo essays: DC - Library of Congress, Botanical Garden, Great Falls.