"All Models Are Wrong But Some Are Useful" - George E.P. Box, Robustness in the strategy of scientific model building, page 202 of Robustness in Statistics, R.L. Launer and G.N. Wilkinson, Editors. 1979.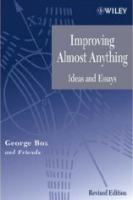 Improving Almost Anything by George Box, 2006.
An excellent new book by one of the most important figures in the quality and statistics. This books includes articles written by George Box from 1982 -2005. Many of the articles should be read by any leader serious about Quality Improvement (a portion of the articles - maybe 50% include more advanced concepts that may be beyond the scope of most managers interested in Quality improvement).
Table of contents and more on the book.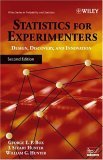 Statistics for Experimenters: An Introduction to Design, Data Analysis, and Model Building by George Box, William G. Hunter and J. Stuart Hunter, Second Edition, 2005. The classic Statistics for Experimenters has been updated by George Box and Stu Hunter, two of the three original authors. William G. Hunter, the other author, died in 1986.
More details on Statistics for Experimenters.
Online Resources